I just LOVE these cute handmade glass tile necklaces. I think my little 2nd graders could make these even! They would be a fun craft for anybody. I would even like wearing them. You could make them so inexpensively too!
(that's the best part!)
HERE at Sabby in Suburbia
has a cute tutorial for making her glass tile necklaces.
Sabby in Suburbia had some cute necklaces with glass tiles. I've seen the tiles at craft stores.



I think I'll try these this year for maybe Mother's Day or Valentines Day. The kids could make their moms a cute necklace and it won't break my budget! Kids are really creative at age 7 and 8 too.






I can't decide if I like the square or round shapes better. I love both of them, so colorful! And who wouldn't just ADORE a little scotty dog necklace. I would.



Glass tile necklaces can be made up with square or round, glass tiles. They both look great and are so inexpensive to make you could try and see which shapes you like best. I love the square ones. I've also seen them made with SCRABBLE tiles. Those, of course, are not glass. But they look cool too.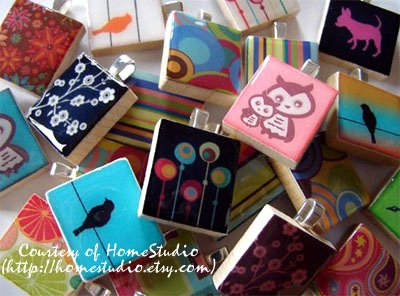 A cute tutorial on the SCRABBLE necklace tiles (using Mod Podge) is right
HERE at Make and Takes.com.
I've seen these SCRABBLE TILE necklaces at County Fairs and Festivals around where I live. They are really cute! Sometimes I see the game Scrabble at the Thrift Stores too. I will be on the lookout for buying one next time I see one. That way we could get the tiles on the CHEAP!
Another tutorial I found at
Not Martha.
She used silicone sealer to put on the back of her necklace tiles after choosing her designs from scrapbook paper.
Here is a supply list I modified from the great tutorial from Simply Modern Mom.
scrapbook paper with small designs on it
glass tiles, circular, or square
bails* (I used aanraku small size)
clear glue Diamond Glaze or Silicone Sealer
super glue or E6000
toothpick
wax paper
ball chains or ribbons ribbons
Design by Simply Modern Mom. The KEY for cute glass tile necklaces, is to find cute scrapbook paper with some pretty designs on it that lend themselves to these individually punched out squares or circles.
These cute Glass Tile Necklaces were from Cathy Peng, linking up HERE.




Here's the materials for making up these cute glass tile necklaces.....

Sun and Moon Gifts HERE is the link. has a 20 pack of the clear glass square tiles for $3.50 a package. These would be great Mother's Day Gifts for kids to give to their parents in my classroom. I think I'll try it!


Here's one from Thrifty and Thriving.
I found another tutorial at Cells Dividing for glass tile necklaces,
Link HERE.
She uses 2 coats of Modge Podge to her handmade paper designs. They just glue the jewelry chain holder on the backs.
Cells Divided found some really cute artwork to use for her glass tile necklaces check it out HERE.
So if you are feeling CRAFTY or BORED and need a creative project to spice up life, these glass tile necklaces would be cute jewelry project you could wear with T Shirts and Jeans! I love them.
You can also find the glass tiles online in bulk packs of 24. Check them out
HERE at Sunshine Crafts.
Or another with clear and colored in a pack of 36 for less than $10 dollars. There is also websites with free printables for the background papers for the glass tiles. They were pretty cute at
Plum Adorable.com.
These would make pretty and easy holiday gifts. I can't wait to make a few of these darling necklaces!